How General Dynamics Information Technology Empowers Women in Tech
The technology industry continues to thrive globally, yet research shows that only 3% of women consider technology as the right path for them. Digging deeper, it's clear that women are underrepresented across the board.
As a global leader in this industry, General Dynamics Information Technology (GDIT) sought to address this challenge by providing women with a platform to network and learn how to forge their own career path in this sector.
In this case study we look at how GDIT's team used Grip's virtual event and AI-powered matchmaking technology for their annual Women + Technology event.
Download this case study to learn how the team at GDIT
Helped 75% of attendees gain valuable tools to build their career

Reached 1,652 attendees and enabled 490 connections

Used event technology to bring their event to the next level and enable stronger connections
Enter your email to download the case study today!
"A core goal of Women + Technology is helping women make connections, find mentors and get the support they need for a fulfilling technology career. We had to make sure this was not lost when we pivoted to a virtual format."

Nisa Moore - Diplomacy Business Leader, GDIT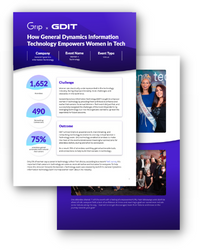 Download the case study here
Grip, the leading AI-powered event, matchmaking and networking platform.
Trusted by the world's largest event organisers.