5 tips for creating the world's best hosted buyer events
If you run hosted buyer events, we know that things can get pretty hectic. Managing your VIP guests, making sure the right people can connect with one another and directing attendees to the right content. It all stacks up.
We're lucky to work with organizers of some of the biggest hosted buyer events in the world. So we've collected 5 top tips from our own team to set you on the path to success!
Download this insider tip sheet to learn:
Tried and tested methods for matching the right buyers and suppliers
Simple tips for getting attendees to prepare ahead of time
Approaches for preparing your internal team for success
And much more!
Enter your email to download the tip sheet now.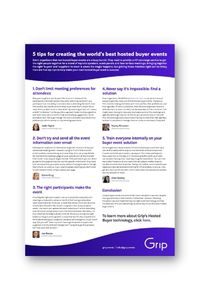 Download the tip sheet now
Grip, the leading AI-powered event, matchmaking and networking platform.
Trusted by the world's largest event organisers.