How RX France's event organisers delighted attendees and hit an all-time NPS record
With a combination of networking opportunities, keynote talks and pre-scheduled meetings, MIP Cancun has built a reputation for being a fun and effective way for TV professionals in the Latin American markets to come together.
To mark the return to in-person conferences, the RX France team wanted to make sure MIP Cancun was the blockbuster event of the year.
In this case study, you'll see how the event organisers:

Brought together the biggest names in the Latin American TV market

Chose the perfect setting that enabled attendees to make the most of the event

Used AI matchmaking software to schedule more than 2,400 meetings

Achieved the highest Net Promoter Score (NPS) in MIP Cancun history
As a bonus, the event organisers at RX France also share their top tips for putting on a successful VIP concierge, pre-scheduled meeting event.
Enter your email to download the case study, "How the Leading TV Event Enables Storytellers to Tell Their Story at Scale with Grip".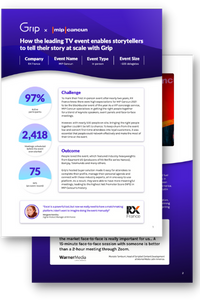 Download the case study here
Grip, the leading AI-powered event, matchmaking and networking platform.
Trusted by the world's largest event organisers.