The ultimate event tech stack: getting your data architecture right
The event tech landscape is huge and continues to grow, with multiple technology solutions for nearly every challenge.
Yet, recent research by UFI, The Global Association of the Exhibition Industry, shows that event organizers continue to experience major challenges with bringing their systems together and provide a seamless experience for all stakeholders.
This, combined with the need to do "more with less", is putting extra pressure on event teams to deliver.
In this exclusive white paper, we take a deep-dive into data architecture and how you can structure your own technology stack to deliver success for your events.
Download this white paper to:
Learn data architecture fundamentals, why they matter and best practices
Access example architectures for exhibition, conference and hosted buyer events at different scales
Discover event technology solutions to power your own stack
Enter your email to download the white paper now.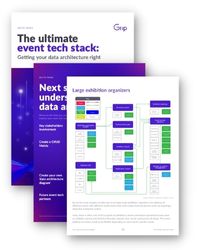 Download the white paper now
Grip, the leading AI-powered event, matchmaking and networking platform.
Trusted by the world's largest event organisers.